Breaks new ground in protecting staff from
the coronavirus
During the first outbreak of the corona pandemic, a close collaboration was initiated with Karolinska University Hospital in Solna and Huddinge. QleanAir Scandinavia has since then delivered over ninety air cleaners to protect the intensive care unit staff from the coronavirus, to complement protective gear and ventilation.
Karolinska University Hospital is one of Europe's finest health facilities, and together with Karolinska Institute, they lead the development of medical breakthroughs. During the outbreak of the corona pandemic in the Stockholm region, the pressure was high on the intensive care units (ICU) in Karolinska. They arranged temporary ICU wards in large rooms that accommodate many covid-19 patients. The staff was primarily protected from the virus with protective gear and by the ventilation, creating a negative air pressure in the room. However, around patients treated with high-flow oxygen, the virus becomes airborne, endangering the staff.
Cleaning the air in the ICU
Therefore, to reduce virus levels and create a safer environment for the staff, a quotation request for air cleaners was sent out. Karolinska needed air cleaners with certified HEPA 14 filter, high capacity and silent operation. QleanAir Scandinavia's offer was chosen because we could quickly adapt one of our products to the high requirements. Over a couple of weeks, a total of 63 units of FS 70 with HEPA 14 filters were delivered and placed in four different ICU wards in Karolinska Hospital in Solna and Huddinge. While installing the units, the air was measured to see to what extent they could reduce the particle levels. The result shows a dramatic reduction.
"At QleanAir we are proud to be part of providing more safe and secure working environments for customers in segments that have been the most severely impacted by the pandemic, such as the intensive care units in hospitals"
– Christina Lindstedt, CEO of QleanAir Scandinavia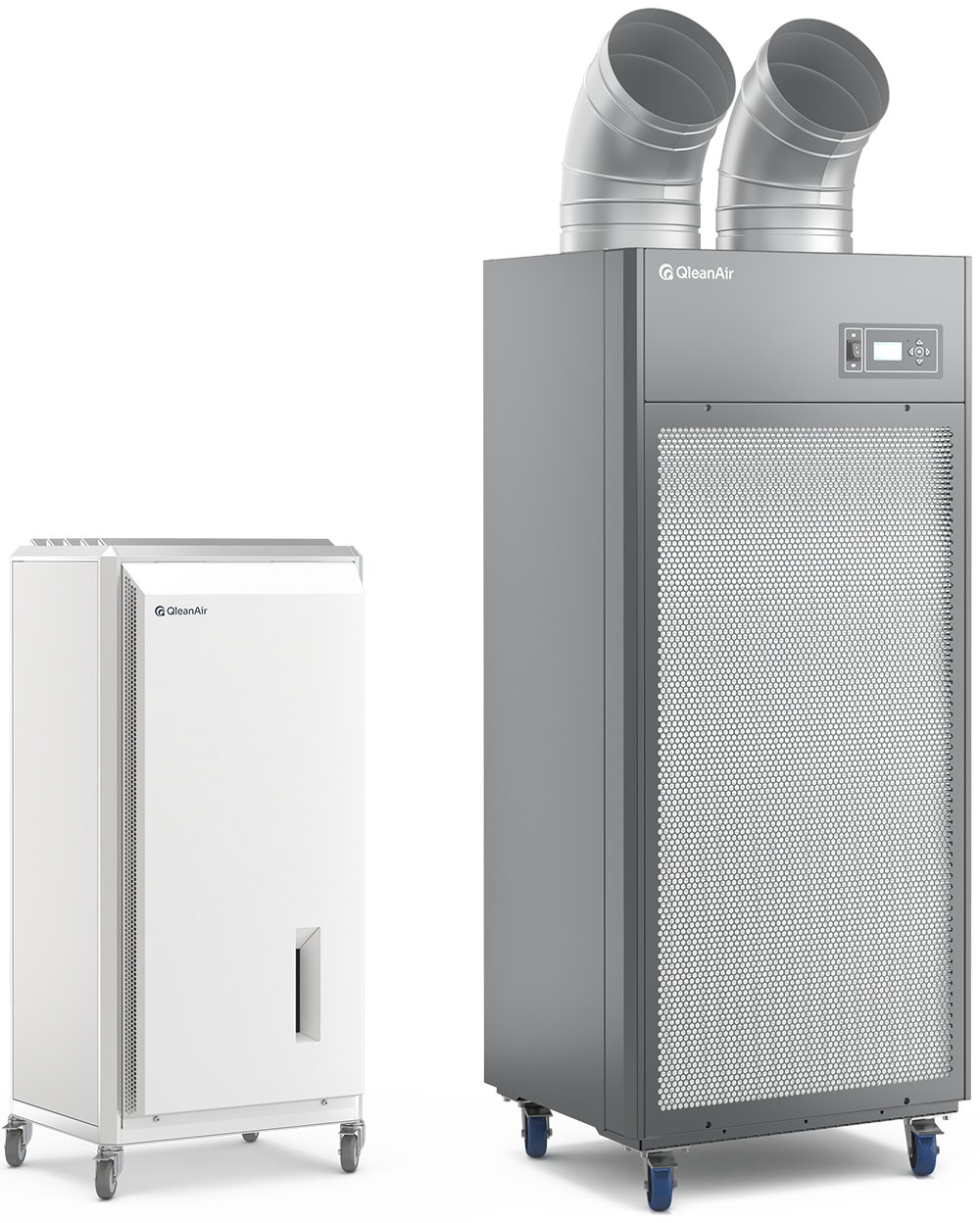 Next step – emergency wards and
waiting rooms
After the first wave was over, QleanAir installed FS 70 HEPA in waiting rooms and emergency wards for children. The result from our internal performance measurement before and after installation once again proved a considerable reduction of particles. The staff was very happy with the performance and could feel the change in the air quality – fresher, cleaner, and
more comfortable air.
An important tool to protect staff
and patients
During the second wave of the corona pandemic, the ICU has once again reached a high occupancy level of covid-19-patients. Another 29 air cleaners have been ordered, both FS 70 HEPA and newly released FS 30 HEPA. Through the corona pandemic, Karolinska University Hospital has gained a new awareness of the importance of air quality. They will continue use free standing air cleaners as a complement to protective gear and ventilation, to protect employees from virus, bacteria and other hazardous particles in the air.
About Karolinska University Hospital
Related products
Related areas of application