QleanAir FS 30 HEPA
Highly efficient yet quiet
in a small footprint
Powerful, quiet and flexible with a small footprint, FS 30 HEPA is ideal for offices, schools, hotels, healthcare, care facilities and other shared spaces in need of healthy and safe air. It captures at least 99.995% of the most elusive particles like viruses and bacteria with certified HEPA 14 filter. Developed in collaboration with Karolinska University Hospital.
Key components of the FS 30 HEPA air cleaning solution
Multi-stage mechanical filtration and preventive service ensure function and efficient air cleaning over time
HEPA 14 and ePM1 60% (F7) filters, classified according to EN 1822 and ISO 16890 standards
Third-party verified system filtering efficiency of 99.995% or more, according to ISO 14644 standards
Quiet operation, <19-45 dB(A)
Airflow of up to 800 m3/h, suitable for rooms up to 100 m2
Operates independently of heating, ventilation, and air-conditioning systems
Lifetime Performance Guarantee
Recommended areas
of application
This model was developed in close collaboration with the Karolinska University Hospital in the beginning of the COVID-19 pandemic. They needed a product that can reduce the levels of viruses and bacteria in the air to protect the staff working with COVID-19 patients in smaller intensive care units, waiting and emergency rooms. FS 30 HEPA also reduces the levels of bacteria, pollen, and mold in the air, creating a safer and healthier environment. FS 30 HEPA is widely used in German schools where ventilation often is substandard. Offices, restaurants, and hotels are other areas where healthy and safe air is very much in demand.
FS 30 HEPA will provide you with safer and cleaner indoor air. Cleaner air means healthier and more productive people with less absence. A safe environment is attractive to your employees and customers. FS 30 HEPA is quiet and efficient with a small footprint. The unit works independently of the ventilation system, uses the standard power socket, and can be easily relocated. We deliver clean air as a service with hassle-free installation, maintenance, upgrades and filter changes. With our unique Lifetime Performance Guarantee, we can guarantee your air quality over time.
Safe and healthy
indoor air
HEPA 14-filtration against
viruses and bacteria
Hassle-free installation
and use
Lifetime Performance
Guarantee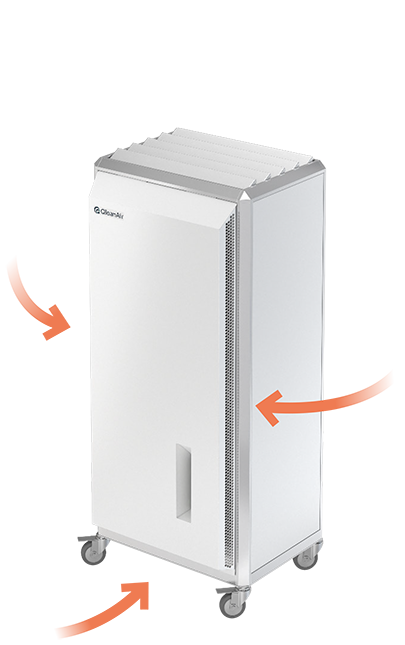 The technology behind the solution
1. Air inlet
FS 30 HEPA's air inlets are located on three sides on the front for unobstructed and optimal intake. The inlets are protected by a front cover to minimize the sound level of the unit.
2. Filtration of particles
With the help of a multi-stage mechanical filtration system with ePM1 60% (F7) and HEPA 14 filters, even the smallest particles and airborne pollutants are captured and removed from the air.
3. Cleaned air is returned to the environment
After the air has been cleaned from harmful particles, it is returned back into the room. The air outlet, located on the top of the unit, can be adjusted according to desired direction of output.

Compliant with the new VDI expert recommendation
QleanAir FS 30 HEPA, equipped with a newly developed VDI-kit, is compliant with the new expert recommendation VDI-EE 4300-14 for air cleaners. Reducing aerosol levels in the room by 90% in 30 minutes, quiet operation and without disturbing turbulence in a design that resists unauthorized changes of settings.
Model
QleanAir FS 30 HEPA
Color

 

Dimensions (w x h x d)
545 × 1225 × 455 mm
Material
Aluminum/powder coated sheet metal
Weight
58 kg
Installation
Mobile
Performance levels
7 modes
Electronic display
Yes
Remote control
Yes

---

Airflow
Up to 800 m3/h
Pre-filter
ePM1 60% (F7)
Main filter
HEPA 14
Gas filter
None

---

Sound level
<19-45 dB(A)
Power supply
220-240V, ~50-60 Hz, 1.4A
Power consumption
9-185W

---

Certifications and compliance
 
Model: QleanAir FS 30 HEPA
Color
Dimensions (w x h x d)
545 × 1225 × 455 mm
Material
Aluminum/powder coated sheet metal
Weight
58 kg
Installation
Mobile
Performance levels
7 modes
Electronic display
Yes
Remote control
Yes
---
Airflow
Up to 800 m3/h
Pre-filter
ePM1 60% (F7)
Main filter
HEPA 14
Gas filter
None
---
Sound level
<19-45 dB(A)
Power supply
220-240V, ~50-60 Hz, 1.4A
Power consumption
9-185W
---
Certifications and compliance