QleanAir FS 30 Carbon
Large capacity for gases and odors in a small footprint
FS 30 Carbon is an efficient, versatile, and quiet air cleaner that eliminates gases and odors from the air in public indoor facilities such as offices, gyms, and hospitals. It's equipped with EPA and activated carbon filters, making it an efficient and reliable air cleaner, while keeping the sound level to a minimum to avoid sleep disturbances, lack of concentration, and interrupted conversations. Thanks to its compact size and its robust wheels, it can easily be relocated when needed.
Key components of the FS 30 Carbon air cleaning solution
Mechanical filtration and preventive service ensure function and efficient air cleaning over time
E11 mechanical filter classified according to EN 1822 and activated carbon filters
Quiet operation, <19-45 dB(A)
Airflow of up to 780 m3/h
Operates independently of heating, ventilation, and air-conditioning systems
Lifetime Performance Guarantee
Recommended areas
of application
FS 30 Carbon can help improve the indoor air quality of any indoor facility that struggles with challenges regarding odors and gases. Odors in for example hospitals, offices, and gyms can be caused by human factors such as body odor, but it can also be a sign of mold or off-gassing, which can lead to serious health issues. In other words, gases and odors can negatively affect both the people in your facility, as well as your business and its reputation. Any indoor environment that needs help eliminating gases and odors from their air can benefit from using the FS 30 Carbon.
FS 30 Carbon is equipped with a carbon filter that helps eliminate gases and odors, making the indoor environment cleaner and healthier. By improving the indoor air with the FS 30 Carbon, the people in the facilities have a decreased risk of getting sick and developing serious health issues. It also creates a more pleasant indoor environment, which can have a positive effect on business. FS 30 Carbon uses an efficient yet quiet EPA mechanical filtration system with a high airflow, ensuring optimal air cleaning over time. The unit is a flexible air cleaning solution thanks to the fact that it works independently of the ventilation system, uses the standard power socket, and is equipped with robust wheels, making it easy to relocate when necessary.
Safe and healthy
indoor air
Carbon filter against
gases and odors
Hassle-free installation
and use
Lifetime Performance
Guarantee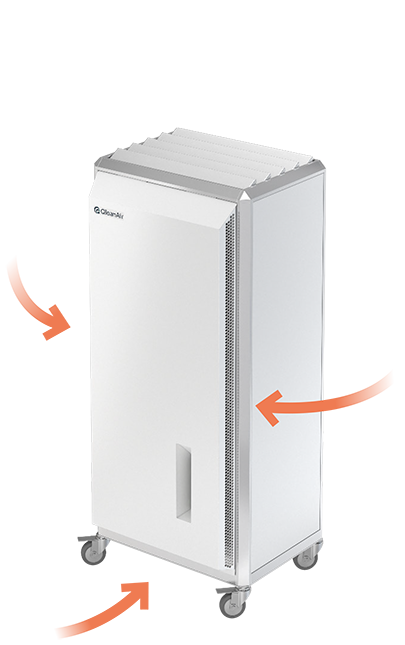 The technology behind the solution
1. Air inlet
FS 30 Carbon's air inlets are located on three sides on the front for unobstructed and optimal intake. The inlets are protected by a front cover to minimize the sound level of the unit.
2. Filtration of gases, odors, and particles
With the help of a multi-stage filtration using E11 and activated carbon filters, gases, odors, and particles captured and removed from the air. The carbon filter is highly effective against odors and gases typically present in shared spaces.
3. Cleaned air is returned to the environment
After the air has been cleaned from harmful gases, odors, and particles, it is returned back into the room. The air outlet, located on the top of the unit, can be adjusted according to desired direction of output.
Model
QleanAir FS 30 Carbon
Color

 

Dimensions (w x h x d)
545 × 1225 × 455 mm
Material
Aluminum/powder coated sheet metal
Weight
64 kg
Installation
Mobile
Performance levels
7 modes
Electronic display
Yes
Remote control
Yes

---

Airflow
Up to 780 m3/h
Pre-filter
Metal mesh
Main filter
E11
Gas filter
Activated carbon

---

Sound level
<19-45 dB(A)
Power supply
220-240V, ~50-60 Hz, 1.4A
Energy consumption
9-185W

---

Certifications and compliance
 
Model: QleanAir FS 30 Carbon
Color
Dimensions (w x h x d)
545 × 1225 × 455 mm
Material
Aluminum/powder coated sheet metal
Weight
64 kg
Installation
Mobile
Performance levels
7 modes
Electronic display
Yes
Remote control
Yes
---
Airflow
Up to 780 m3/h
Pre-filter
Metal mesh
Main filter
E11
Gas filter
Activated carbon
Sound level
<19-45 dB(A)
Power supply
220-240V, ~50-60 Hz, 1.4A
Energy consumption
9-185W
---
Certifications and compliance