QleanAir FS 15 Carbon
Efficient against smoke,
odors, and gases
QleanAir FS 15 Carbon is a powerful and adaptable air cleaning unit that eliminates harmful gases and particles and unpleasant odors from the air. It's a great solution for indoor environments with limited space available that need to improve their indoor air quality or that need additional air cleaning in their existing smoking rooms due to insufficient ventilation. The QleanAir FS 15 Carbon uses a multi-stage filtration system, making it efficient and reliable despite its compact size. The result is a healthier, safer, and more pleasant environment to stay in.
Key components of the FS 15 Carbon air cleaning solution
Multi-stage filtration and preventive service ensure function and efficient air cleaning over time
Mechanical E11 filter classified according to EN 1822 and high capacity activated carbon filters
Capacity of 6000 cigarettes/service interval and airflow up to 760 m³/h
Quiet operation, <30-56 dB(A)
Operates independently of ventilation, using regular power socket
Delivered as a service, hassle-free installation, service and Lifetime Performance Guarantee included
Recommended areas
of application
The FS 15 Carbon can help improve the indoor air quality of any facility that struggles with challenges related to tobacco smoke, odors, gases and volatile organic compounds (VOCs) that are produced by off-gassing from building materials, carpets, electronic equipment, cleaning products etc. It has a large gas cleaning capacity due to the unique combination of high quality activated carbon and efficient E11 particle filter. Typical application areas are smoking rooms, offices, schools, gyms, restaurants, healthcare and other care facilities.
The FS 15 Carbon cleans the air using a multi-stage filtration system with efficient E11 filter and activated carbon. Its compact size makes it a great solution for facilities with limited space available, and its discreet color and design allow it to blend into any environment. The FS 15 Carbon helps improve the indoor air quality of your facility, making the environment healthier, safer, and more pleasant to stay in. The air-cleaning unit is flexible thanks to it working independently of the ventilation system and that it uses the standard power socket. Each unit also comes with a remote control, making it easy to control the power level.
Safe and healthy
indoor air
Hassle-free installation
and use
Improved work
environment
Lifetime Performance
Guarantee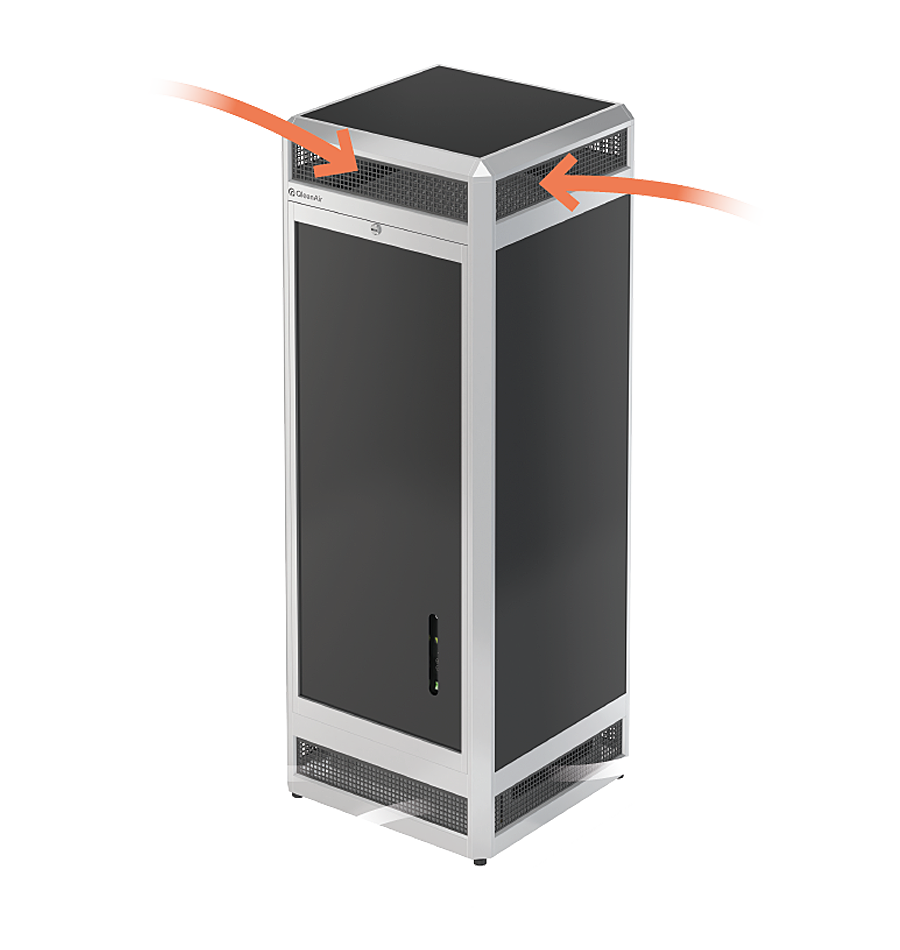 The technology behind the solution
1. Air inlet
FS 15 Carbon inlets are located on four sides on the top of the unit for unobstructed and optimal air intake. For safety reasons, the inlets are protected by a grid.
2. Filtration of gases and particles
Using a multi-stage filtration technique, airborne particles and contaminants are effectively removed from the air. The FS 15 Carbon is equipped with a spark protection filter, E11 filter and multiple activated carbon filters.
3. Cleaned air is returned to the environment
After the air is cleaned from gases, particles and odors, it is returned to the room. The outlets are located on four sides at the bottom of the air cleaner.
Model
QleanAir FS 15 Carbon
 
Color

 

Dimensions (w x h x d)
415 × 1152 × 415 mm
Material
Aluminum/tempered glass/galvanized sheet metal
Weight
60 kg
Installation
Stationary
Performance levels
7 positions
Electronic display
Yes
Remote control
Yes

---

Airflow
Up to 760 m3/h
Particle filters
Spark protection, E11
Gas filter
Activated carbon

---

Sound level
<30-56 dB(A)
Power supply
230V, ~50-60 Hz, 1.4A
Energy consumption
9-170W

---

Certifications and compliance
 
 
Model: QleanAir FS 15 Carbon
Color
Dimensions (w x h x d)
415 × 1152 × 415 mm
Material
Aluminum/tempered glass/galvanized sheet metal
Weight
60 kg
Installation
Stationary
Performance levels
7 positions
Electronic display
Yes
Remote control
Yes
---
Airflow
Up to 760 m3/h
Particle filters
Spark protection, E11
Gas filter
Activated carbon
---
Sound level
<30-56 dB(A)
Power supply
230V, ~50-60 Hz, 1.4A
Energy consumption
9-170W
---
Certifications and compliance