QleanAir QleanSpace GMP
A trustworthy cleanroom
solution with continuous
monitoring
QleanSpace GMP is our customizable cleanroom solution that has been developed to meet your specific needs for GMP classification, size, functionality and other requirements. The QleanSpace GMP cleanroom uses airlocks and independent HEPA 14 fan filter units to generate a positive or negative pressure, allowing for a highly controlled environment that can monitor your selected data points of interest. Thanks to QleanSpace GMP being a freestanding and independent room-within-a-room solution, it can be installed almost anywhere. Consultation, design, installation, service, and functional guarantee are all included in our hassle-free cleanroom solutions.
Key components of the QleanSpace GMP solution
Customizable, modular design, tailored for your needs in any size
Non-porous and flush surfaces for easy cleaning
Continuous monitoring of data points of interest, such as particle levels, relative humidity, differential pressure, and temperature, with warnings at pre-set levels
Individual fan filter units with HEPA 14 filters certified according to EN 1822
Fully automated and interlocking door system
Airlocks for clean passage of personnel, pass-through cabinets for material, laminar airflow (LAF) benches and other options available
Installation, preventive service, maintenance, and Lifetime Performance Guarantee is included
Recommended areas
of application
QleanSpace GMP is our GMP classified cleanroom solution, made specifically to help you meet the GMP classification requirements. All exposed surfaces are non-porous and easy to clean, and the floor meets the strictest requirements for particle release behavior, further minimizing the risk of bacterial growth and contamination. Thanks to its customizable design, QleanSpace can be tailored to your specific needs and requirements, and can even be changed or expanded when needed. It's the perfect cleanroom solution for any business that needs a GMP classified cleanroom, such as organizations within medical technology, pharmaceuticals, sensitive production, compounding, or healthcare.
Thanks to QleanSpace GMP being both modular, compact and independent, the cleanroom solution can be placed almost anywhere. QleanSpace GMP constantly monitors the cleanroom's pressure levels, humidity, temperature, and the levels of airborne particles, while displaying the information on screens visible to staff both inside and outside the area. Although the QleanSpace GMP cleanroom has solid and hard walls that simulate the property of a permanent fixed-wall room, it is still a flexible solution that can be re-designed or expanded if needed. We help our customers with everything from needs analysis and installation, to classification and validation, and all of our solutions come with our unique Lifetime Performance Guarantee. Regular maintenance, inspection of filter capacity, and performance checks are also included.
Standalone and
independent solution
Compliance and
according to GMP
Lifetime Performance
Guarantee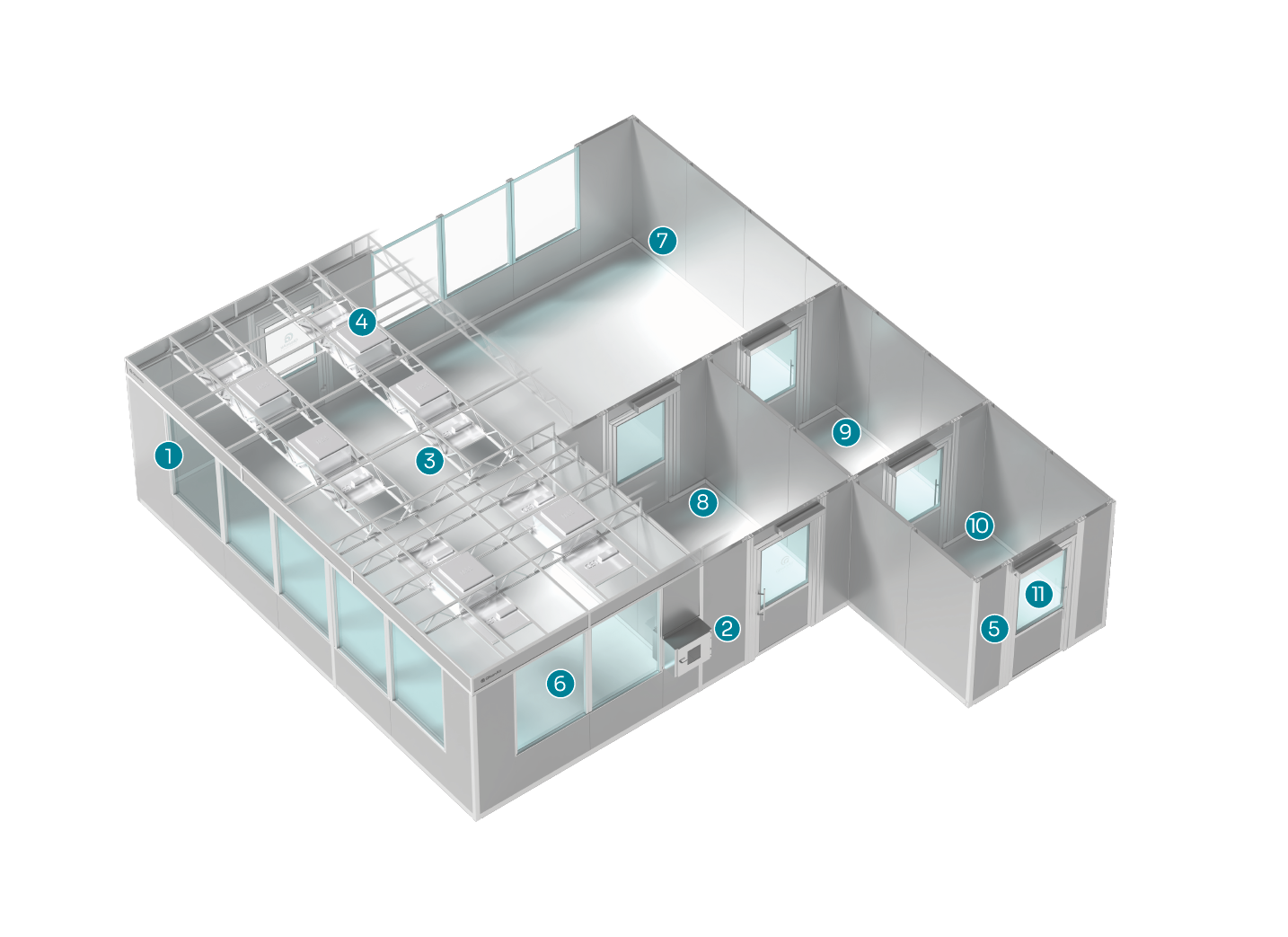 Example layout
1. Modular, durable walls
4. Fan filter units/HEPA 14 filters
7. Smooth surfaces and rounded corners