When people generally think of dangerous jobs, they usually think of police work, coal mining, working on an oil rig, but what about food manufacturing?
Maybe "food manufacturing" would not be a first choice for a Michael Bay, Hollywood blockbuster's story line, but statistically, working in an indoor food production environment can be quite hazardous.
Below are just a few recent statistics regarding the occupational health of workers within the food and beverage industry.
Food manufacturing workers have a 60% higher rate of occupational injury and illness than workers in other industries. The risk of occupational death is 9.5 times higher for food industry workers than in other production industries.
Severe injuries that required time off work are more than twice as frequent among food manufacturing workers.
75% of employees say that feeling personally safe and secure in the workplace is important to them.
Air pollution in food production
The indoor air quality in a food and beverage processing facility not only can affect the product, and the company's operations, but equally as important, the safety of its workers.
Scenario 1: Baker's asthma
It is well documented that baker's asthma (aka, "Baker's Lung") is one of the most frequent, occupational, respiratory disorders. This is caused by:
Primarily, the inhalation of fine flour powders (cereal flour, wheat flour)
Bakery dust
Volatile organic compound emission
Ashes from wood-burning stoves
Besides asthma, it is also common for these types of air contaminants to cause sensitization in those working in these areas.
Scenario 2: Exposure to airborne chemicals
Working in food or beverage production where flavoring chemicals and other VOCs are used places an increased risk of occupational asthma and contracting bronchiolitis obliterans. The exposure of diacetyl, acetoin, 2-nonanone, acetaldehyde, and other volatile organic compounds is known to exacerbate asthma symptoms and emphasizes a need for exposure reduction.
Solutions designed to protect food workers
Keeping productive and safe is the goal of every food manufacturer, but how is this achieved? Two distinctive ways.
On-site training
Equipment and technology
Training
Getting employees to actively participate in improving workplace safety by providing effective training is essential in creating a safe working environment. This may include operations, maintenance, and cleaning procedures.
Equipment and technology
QleanAir Scandinavia has designed a specialized air filtration system, specifically for the food and beverage industry. The FS 70 FG is designed to significantly improve the primary prevention of exposure of inhalative noxae within bakeries and other types of food production where VOCs and particles are known to cause asthma, rhinitis, and other allergic reactions to all employees, such as bakers.
Within its design are features to offer safer working operation and cleaning methods.
Custom, efficient, multi-filter configuration: Meeting ISO 16890 and EN1822 filter standards ensuring continuous efficiency in capturing a wide range of dust/airborne particles. With multiple filter layers the FS 70 FG creates a safety net should an accident occur if the first filter entering the AHU (air handling unit) becomes damaged.
Hygienically designed: All surfaces are smooth and made out of non-porous materials to be easy to clean. Crevices have been minimized to avoid spaces where particles and contaminants can gather.
Seamless, rounded edges: All gaskets, seals and joints are smooth to avoid organic material from collecting, and able to withstand aging and detergents.
Leak-resistant unit housing: The hull of the unit is completely sealed, avoiding any leakage of particles or contaminants into the unit as well as to avoid for any pests being able to invade the hull.
Corrosion-resistant materials: A uni-frame hull made with austenitic stainless steel ISO 1.4307, 304L.
Food grade seals and gaskets: All gaskets and seals are smooth and continuous to avoid organic material from collecting. They are also able to withstand aging from disinfectants and detergents. Materials comply with EC1935/2004 – approved for food and drinking water contact.
Constant airflow regulation: Ensures constant airflow in combination with mechanical filtration, guaranteeing the performance of the unit over time.
Accessories: Optional hoods, anti-microbial, fabric ducting systems, and textile diffusers.
Optimized service: Included, routinely scheduled service plan, i.e. filter replacement.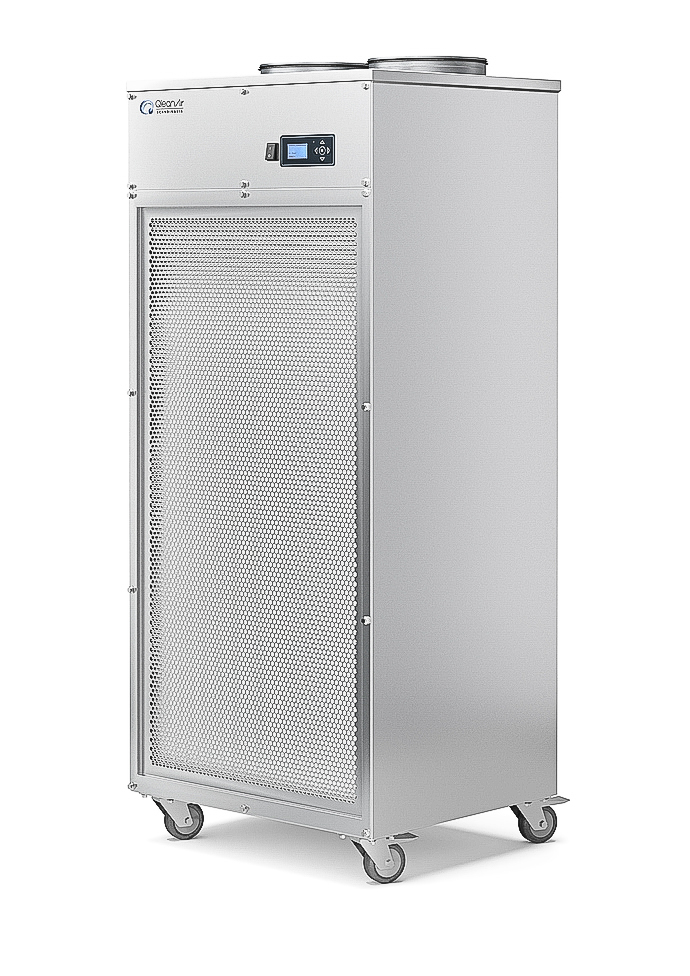 Along with the protection pf people, the FS 70 FG (food grade) excels at product protection; reducing the chance of contamination or premature spoilage which is known to help improve operations from unnecessary setbacks, downtime, returns, and possible legal issues.
Even though the FS 70 FG's design and technology may be complex, learning how to effectively use and clean the equipment shouldn't be. We include an easy to read operation's manual because let's face it, food workers have a hectic schedule. They don't need a complicated manual on top of that.
For more information on the FS 70 FG, click here. If you would like to learn more about how QleanAir can help your food/beverage facility, reach out to one of our local offices here!
Additional sources
Säkerhetsfärdigheter
Tasanet kunskapscenter
9 Health & Safety Statistics Food and Beverage Companies Need to Know
Related products
Related areas of application
Related material