QleanAir Connect
Smart air quality control
QleanAir Connect is our new platform for connecting air cleaners and air quality sensors with a management system. Using a cloud solution, the quality of the air and functionality of the air cleaners can be monitored and controlled remotely. This allows for optimization and automatization of the air cleaners performance and real-time control over the air quality.
Key benefits of the QleanAir Connect solution
Monitoring of air quality in real-time and historically
Hassle-free fleet management with easy access to installed units' performance as well as remote manouvering
Optimized performance of air cleaning solution regarding energy consumption, service intervals etcetera. Possibility to automize operations and run air cleaners on demand
Ensured smooth operations with remote support and monitoring by QleanAir
Tracking of key metrics of the air cleaners performance and status in real-time and historically in order to identify trends
Customizable user interface with possibility to connect to facility and building management systems via API
Recommended areas
of application
All customers that have an interest in their air quality can benefit greatly from this solution. However, for customers with a larger fleet of air cleaners QA Connect offers more advantages in terms of for example fleet management and automation. Such as for example logistics centers, warehouses, production industry including food & beverage production.
QA Connect monitors and controls your air cleaner's performance and status. It will help you take control of the indoor air quality (IAQ) and the air cleaner's performance. You can also optimize and automate operations to ensure that you have the best working environment for your people, products, and processes. The customer portal gives you an instant overview of real-time and historical performance of your air cleaner. You get a visualization of key metrics for air cleaner performance and indoor air quality. Alarms and notifications are automatically relayed to QleanAir who will monitor, support, and control your equipment. Certain customizations can be done to the dashboard in the QleanAir Connect portal to integrate the view seamlessly into the customers' existing monitoring systems. The solution is built on open source and will allow future QleanAir Connect customers to become part of a larger digital ecosystem such as Building or Facility management system.
Monitoring
of air quality
Optimization of air
cleaning solution
Hassle-free fleet
management
Ensured smooth
operations
Customizable
user interface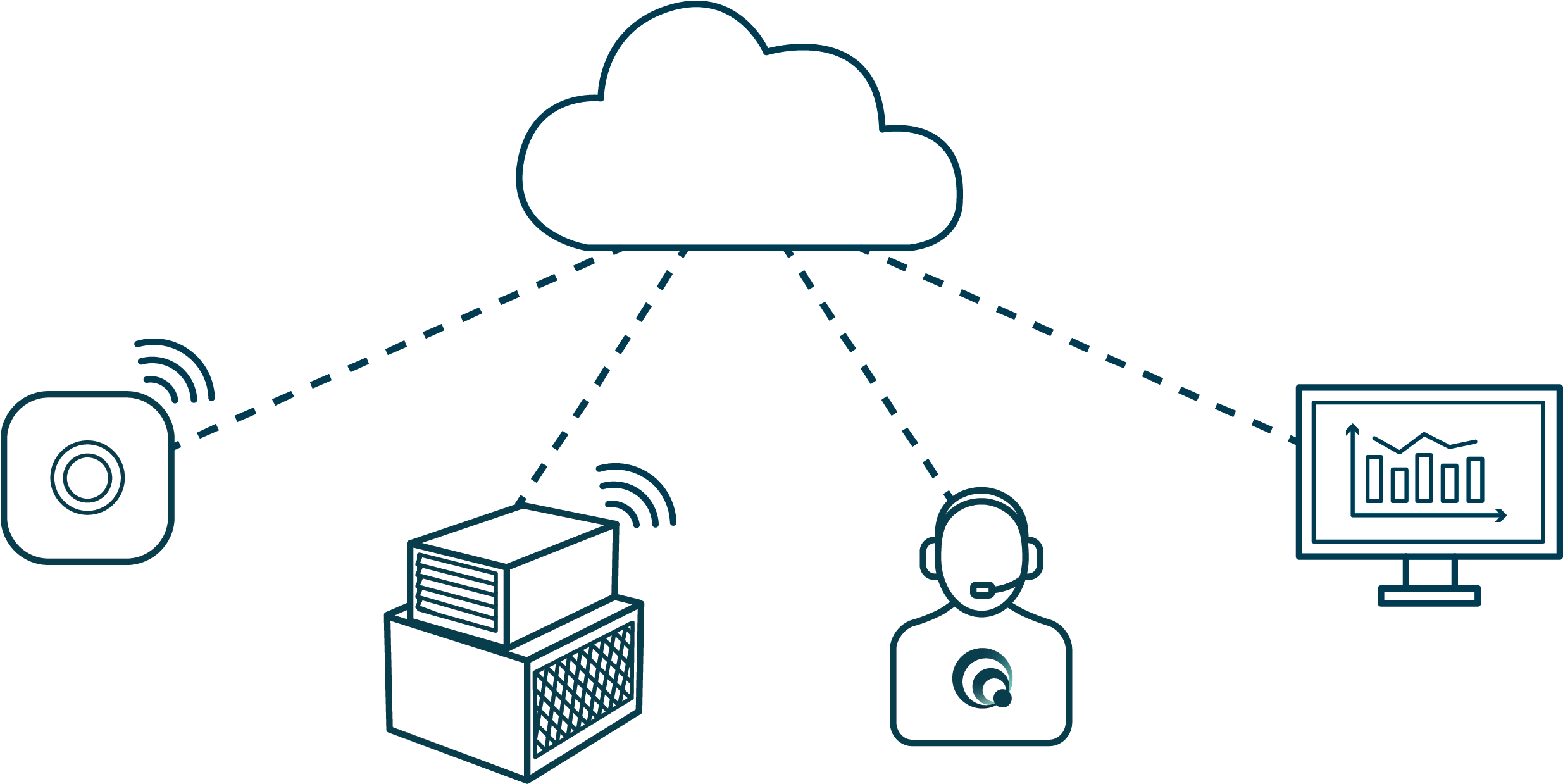 How it works
QleanAir FS 70 and FS 90 air cleaners can be equipped with mobile connectivity
A selection of quality sensors can be integrated with the system
You can monitor and manage the air cleaner fleet through the customizable online portal
Air cleaner performance and air quality data can be tracked in real time and historically
QleanAir will monitor, remotely support and control the fleet of air cleaners